Vladimir Panokin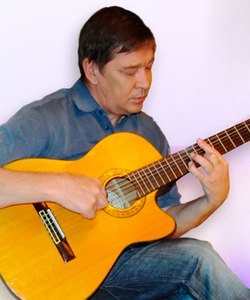 Hello! I'm Vladimir Panokin.

The GuitarSolo project presents my best arrangements for acoustic guitars (sheet music and tabs). All the presented arrangements are presented with video and gpx file (GuitarPro format).

I graduated from the pop and jazz department in the guitar class of the Musical College of Moscow, and for more than 30 years I have been working as a teacher in Zhukovsky (Moscow region). The accumulated experience allows me to create sheet music and tabs of high quality for guitarists with almost any level of preparation.

Accessibility and beauty is the main guide for me when creating a guitar arrangement.