Marcos Lima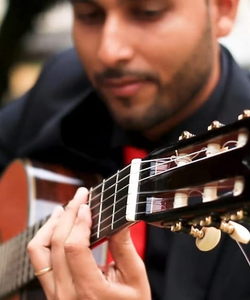 MARCOS LIMA born in Belém do Pará started his guitar studies at the age of 14. At the age of 15, he joined the School of Music at the Federal University of Pará (EMUFPA) - Belém / Pará / Brazil, completing the technical course in Classical Guitar in 2008, under the guidance of Prof. Dr. Adalberto Teixeira

In 2019 he completed the Bachelor of Music course at the State Institute Carlos Gomes (IECG) - Belém / Pará / Brazil, being a student of Prof. Dr. Sidney Molina, founder of the Quaternaglia Group. He was the winner for two consecutive years of the "Doris Azevedo for Young Musicians" Competition - 2016 and 2017 held by the Institute.

He is currently a professor of online classical and popular guitar lessons.
Registration date:

12.12.2020 01:20

Profile views:

1690

From:

Brazil, Pará, Marituba
Sheet music and tabs - Marcos Lima