Vladimir Kaminik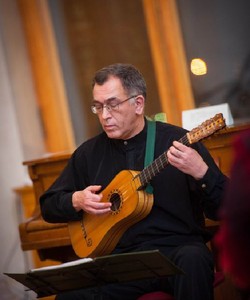 Vladimir Kaminik

I am one of the first performers in the Russia on the vihuela and the baroque guitar. I own the art of playing all types of old guitars (vihuela, baroque guitar, renaissance guitar).

I am the Founder and Artistic Director of the musical project "Tanedores" (for the first time this project, with success, was shown at the State Academic Chapel of St. Petersburg in January 2006).

I am the Author of the introductory course "The Art of Playing the Guitar": Renaissance and Baroque. I am the author of all the arrangements in the series of collections for the guitar "Lamentations", "Melodies of the Old Paris", "Royal Guitar", "Royal Teacher of the Guitar", "Spanish Caravel", "Four Pieces from the Fitzwilliam Vordzhinal Books", "Mass on the guitar "," Romances of Spain ".".
Registration date:

07.05.2018 11:33

Profile views:

8872

From:

Россия, Санкт-Петербург
Sheet music and tabs - Vladimir Kaminik