Mikhail Goldort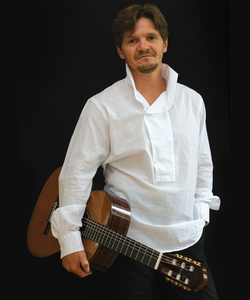 Hello! I am Mikhail Goldort!

GuitarSolo has my best arrangements for a six-string guitar. Format - Sheet Music.

Graduate of the Novosibirsk State Glinka Conservatory.
He performed at many international festivals. Solo concerts of the guitarist and concerts with the orchestra are held in the best halls of Russia and Europe.

In 1996, in one of the most authoritative guitar magazines "Classical Guitar" (England) appeared a review of M. Goldort's disc.

In 2000, the American publishing house "Tascuny Publications" published a play by the famous English composer John Duarte "Lirique Valse", which the composer dedicated to Mikhail Goldort.

Along with the original guitar music, the repertoire of the guitarist has many of his own musical transcriptions of Mozart, Persel, Debussy, Stravinsky, Chopin, and also fantasies on the themes from the operas of Gluck, Verdi, Bizet, Rossini and Purcell.

Since 2005 I live in Germany (Cologne) and continue teaching and concert activity.
Sheet music and tabs - Mikhail Goldort
($91.54 for 38 items, $2.41 for 1 item.)